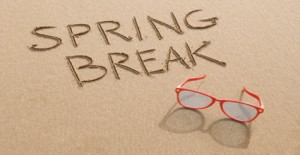 As I drive back to our office in Miami,  the last several weeks of Spring Break 2015 are finally coming to a close.   Hotel after hotel, the college students took over the Gulf of Mexico during their extended break from their scholastic routine.   These groups of partying students don't seem like the ideal buying group however being Budget-Conscious is the main term for their trip that led them to Panama City Beach Florida in the first place; the tourist hotspot on the Florida Panhandle. Oh yes!
"Surf, sand and fun is what they're here for", says George Charles, a local cab driver and resident for 25 years.   So who would want to market to The goup?  The answer…A lof of companies because the reality is that these impresionable minds of the student today, lead to the buying power of a working adult tomorrow.  The tightly packed groups on vacation can quickly spread the word at the beach or back home at school.
Over the period of a week or two, major organizations make a lot of brand impressions.  The largest surprise is that it isn't the usual suspects, alcohol companies, dispersing their wares.  Both the Army and the Navy had the largest presences on the sand during the last  weeks of March Break.
In the Army's case, they had a 50-foot wooden tower for spring breakers could scale after being outfitted with a helmet and harness.  The successful wall climbers would go home with a screen printed Army Tshirt commemorating the event.  This was one of many promotions in Panama City Beach that took place during the chaotic month of March.
At the other end of the beach, the Navy had a similar presence that included giving away shirts, beach balls and sun screen.  Each day, they would see 100-200 people go by each of the booths and participate in the various events. We even saw the Jack Link's Beef Jerky truck handing out out pens, stickers and magnets along with free samples of their product line.
With many events taking part during this time, it is no wonder that more organizations will be starting to capitalize on this ever popular student market.  The ideas and impressions that are created at this age, will last a lifetime; especially with the unique promotional items that are given out during these events.
Singing off from Florida,
— Steve the Blogger